If you are hankering for an exciting and breathtaking adventure, maybe the Danao Extreme Adventure Tour will help you feel the adrenalin rush! Experience a different kind of excitement with all sorts of extreme activities such as ziplining, rappelling, kayaking, cave trekking and root climbing.
Try this one-of-a-kind adventure if you are tired of the usual tour activities. The Danao Extreme Adventure Tour is definitely not for the faint of heart!
Destinations
Tour is good for 6-7 hours only, to start at 7:00 A.M. Destinations are listed in order of arrival.
Danao Adventure Park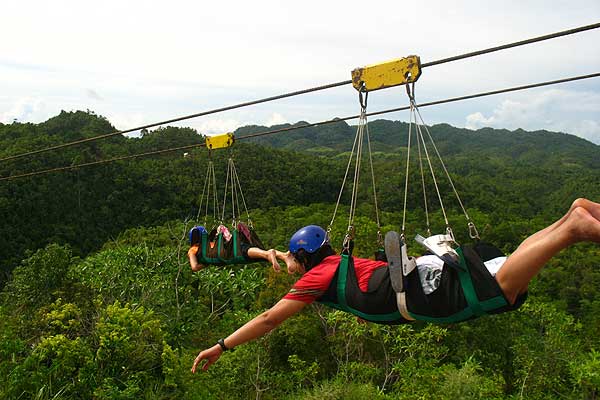 The Danao Adventure Park is where all the exciting action and adventure starts. You can engage in extreme adventure such as the plunge, ziplining, caving, cable car rides, rappelling, and kayaking.
Sagbayan Peak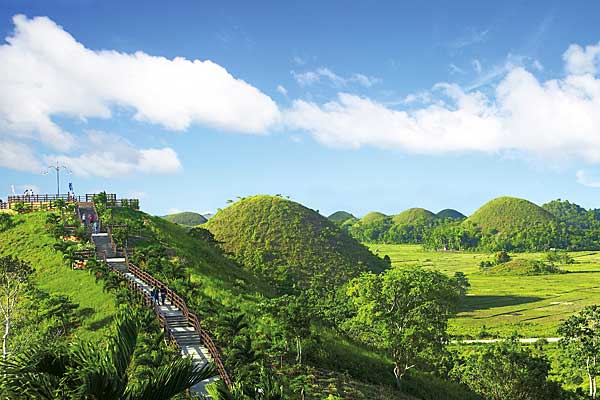 The Sagbayan Peak is a mountain resort located right in the middle of Bohol, with gardens and theme parks (you can even meet your favorite Disney cartoon characters!) to keep you occupied. You also have a vantage view of the famous Chocolate Hills.
Inclusions
Private Air Conditioned Transportation
Lunch at Danao Tourism Complex
All Entrance and Toll Fees
Free Snacks
Tour Driver
Licensed Tour Guide (First booking, first served basis)
Rides
Rides are on pax account (not included in the package).
| Activity | Fee |
| --- | --- |
| Plunge | P 700 / pax |
| Suislide / Ziplining | P 350 / pax |
| Caving | P 350 / pax |
| Sky Ride / Cable Car | P 250 / pax |
| Rappelling with Root Climbing | P 400 / pax |
| Kayaking | P 200 / pax |
| Wall Climbing | P 200 / pax |
Rates
All rates are subject to change without prior notice. Free tour guide is on a first booking, first served basis. (pax = passenger)
Car
1 pax
P 5,050 / pax
2 pax
P 2,700 / pax
3 pax
P 2,000 / pax
Van
4 pax
P 1,850 / pax
5 pax
P 1,550 / pax
6 pax
P 1,350 / pax
7 pax
P 1,200 / pax
8 pax
P 1,100 / pax
9 pax
P 1,000 / pax
10 pax
P 950 / pax
11 pax
P 900 / pax
12 pax
P 850 / pax
13 pax
P 800 / pax
14 pax
P 800 / pax
Coaster
15 pax
P 1,000 / pax
16-17 pax
P 950 / pax
18 pax
P 900 / pax
19-20 pax
P 850 / pax
21-23 pax
P 800 / pax
24 pax
P 750 / pax
Mini Bus
25-26 pax
P 900 / pax
27-29 pax
P 850 / pax
30-33 pax
P 800 / pax
34-35 pax
P 750 / pax
Bus
36-47 pax
P 850 / pax
48-55 pax
P 800 / pax
Special rates for children:
0-3 years old (Free of charge)
3-10 years old (Half price)